Wedding Celebrant – Weddings in Somerset
I regularly perform a commitment ceremony for couples which although not a legal ceremony, is still be a moving, beautiful and life changing event.
We can use many of the same ideas for vows, rings etc which are used in a Registrar style of wedding if you wish. Because we are not limited by having certain legal phrases however, you really have a lot of freedom to do and say whatever you want, and whatever is most meaningful to you and your relationship.
I enjoy meeting couples and helping them to create a ceremony which is special and unique to them.  I would like to help make your celebration unforgettable, relaxed, uplifting, symbolic, blissful, touching,  and more…. Its all possible!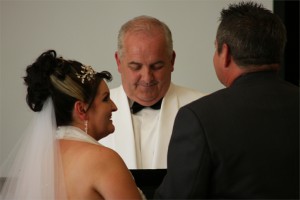 You can choose a ceremony from one of the many I have put together, or you can just use them for ideas to write your own. I will guide you through all the legal requirements and help you to identify and shape your own ideas and dreams into the perfect ceremony for you both. I am happy to fit in with whatever style of ceremony you want.
I have many ceremony samples, which I will send to you when you decide to book me and I can suggest suitable readings, which could include family members and/or friends. I can advise on vows and the giving of rings. I have suggestions for the (optional) inclusion of symbolic rituals such as a candle, wine, cider or sand ceremony, and we can  discuss all this and more when we meet.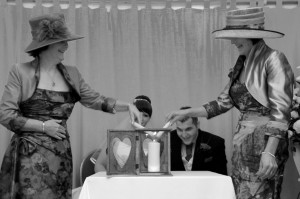 I have a cordless PA system with a cordless microphone. We can also play music for the ceremony through this system if you wish.
There is a no-obligation first meeting  and we can meet after that as needed to finalize everything before the day.